New Releases and Reviews - Subtle Shift - Somber Frequencies - Textural Atmospheric Dub
---
betawave31 - Sun Aug 14, 2022 9:28 pm
Post subject: Subtle Shift - Somber Frequencies - Textural Atmospheric Dub
---
Hello Everyone,
Aside from my main recording project Alpha Wave Movement I have a side project Subtle Shift (formerly Within Reason) which is focused more on atmospheric and textural rhythmic and dubby infused electronica.
The latest release is Somber Frequencies. If you are interested in a copy for review or your show please feel free to drop me a note.
Heres a link to the album available as digital media and CD.
https://hrresonance.bandcamp.com/album/somber-frequencies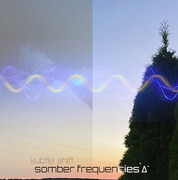 ---

Powered by CBACK Orion based on phpBB © 2001